Hello, welcome to FluidOne!
Security Services
Customer Experience has become a critical differentiator for virtually every organisation. Customers expect you to be there for them and to be responsive. They want to communicate with you over the channel they prefer whether that be voice, email or chat, and they also want the option to be able to serve themselves.
Whether you are the scale of having a dedicated contact centre or just have teams that are predominantly customer-facing, equipping these people with the right tools to deliver effortless and effective service to your customers is key.
FluidOne has a rich pedigree of helping our clients to put in place contact centre solutions that make their people far more productive while creating a truly differentiated customer experience.
Why Deploy A Contact Centre Solution
Putting in place specialist contact centre software can transform the way you interact with your customers while making your customer-facing staff far more efficient and effective. A well designed and implemented Contact Centre solution can:
Increase conversion rates and upsell
Reduce the cost to serve
Increase customer retention
Adhere to contractual SLA's
Reduce ramp times for new staff
Attract, reward and retain skilled staff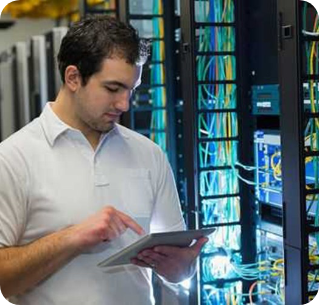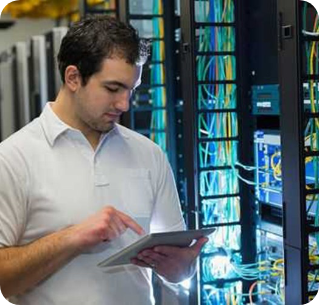 Contact Centre Solutions Deployed Your Way
As a Contact Centre solution provider, FluidOne partners with the leading contact centre solution vendors. This allows us to offer you choice and to select the solution that best meets your needs both in terms of functionality and how you deploy this.
On-Premise
We are able to provide you with an on-premise contact centre solution either deployed within your contact centre location or centralised in your data centre. We connect this to the public telephone network to support inbound calls as well as seamlessly connecting this to the applications and systems that support your agents.
Hosted Contact Centre
If you are looking for your own Contact Centre solution but want this to be hosted in the cloud, either to meet your IT architecture needs or to support virtualised customer-facing teams, then we can do this. We host your specific contact centre platform in our Connected Cloud and deliver the service across your required locations and home workers.
CCaaS
We also offer Contact Centre as-a-Service delivered from a highly secure and resilient cloud directly to your users wherever they are. This provides you with ultimate flexibility and scale; you select the capabilities that you require now, we manage your service, and you pay per user per month.
This unique ability to offer a range of solutions across a number of deployment methods enables us to support you on your contact centre journey. We can help you introduce contact centre capability, then expand this as customer preferences change, and scale this as your business grows.
Working With Leading Contact Centre Providers
We provide contact centre solutions from both Mitel and 8x8, two leading vendors that offer a comprehensive range of capabilities for a wide spectrum of requirements. Having this choice enables us to truly understand the needs of our clients and to propose the solution that best meets their current needs while also delivering the agility to meet future requirements.
Mitel Contact Centre
Mitel is a market-leading vendor in unified communications and contact centres. We partner with Mitel as they offer a wide range of solutions from intelligent call routing for customer-facing teams through to a feature-rich contact centre platform. Mitel also offers choice in terms of how their solution is deployed and consumers with on-premise, hosted and CCaaS options.
8x8 Contact Centre
8x8 provide a feature-rich solution that is delivered as a Contact Centre as-a-Service (CCaaS) offering. This platform offers both flexibility and scalability to meet the needs of our clients while also providing a resilient solution that can support a virtualised operation. With a direct connection into the 8x8 platform, we are able to offer our clients a highly resilient and fully managed service.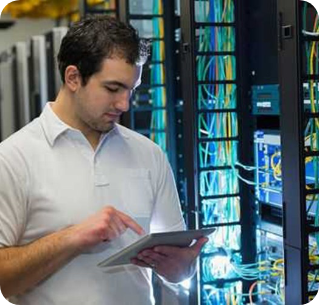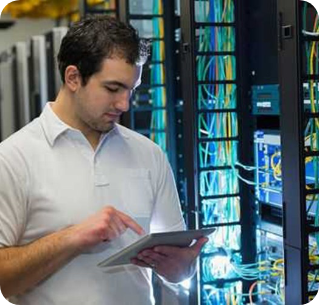 Delivering Contact Centre Within MS Teams
With more and more organisations adopting MS Teams as their enterprise communication and collaboration platform, embedding specific contact centre capability into this platform has significant advantages.
Rather than provide another unique environment for dealing with customer engagement, embedding contact centre functionality within Teams provides your people with an intuitive and familiar environment inside which to operate.
At FluidOne we are able to deliver contact centre capability as an embedded application inside of MS Teams. You gain all of the benefits of utilising purpose-built contact centre software within your corporate-wide environment. This significantly accelerates adoption and ensures that your contact centre or customer service teams remain connected with the rest of your organisation.
Through our expertise in MS Teams and contact centre software, we are able to provide you with a fully integrated and connected solution and manage the end-to-end service delivery.
Want to find out more about how we can work alongside and support your in house IT team?
With over 30 years' experience in Managed IT services, FluidOne is here to help your IT team get recognised for the right reasons. Drop us a line and one of our experts will be in touch.